1
« on: June 03, 2018, 08:43:58 PM »
I've been wanting to play with this for a long time. Finally got around to it.
I'm doing it on a remote control transmitter case.
I didn't like any of these designs and didn't want to rebuy a transmitter.
https://www.getfpv.com/frsky-2-4g-16ch-taranis-x9d-plus-transmitter-special-edition-w-m9-gimbals.html
The non dipped shells are only $15
Started with a black plastic, sanded and spray painted white for a base color.
This shell was my first test for a dip, the paint started to crinkle and chip off in places because I didn't prep it properly.
I had 2 different designs to dip. unfortunately I tested both of these with water that was way too hot so I have spots that didn't stick right.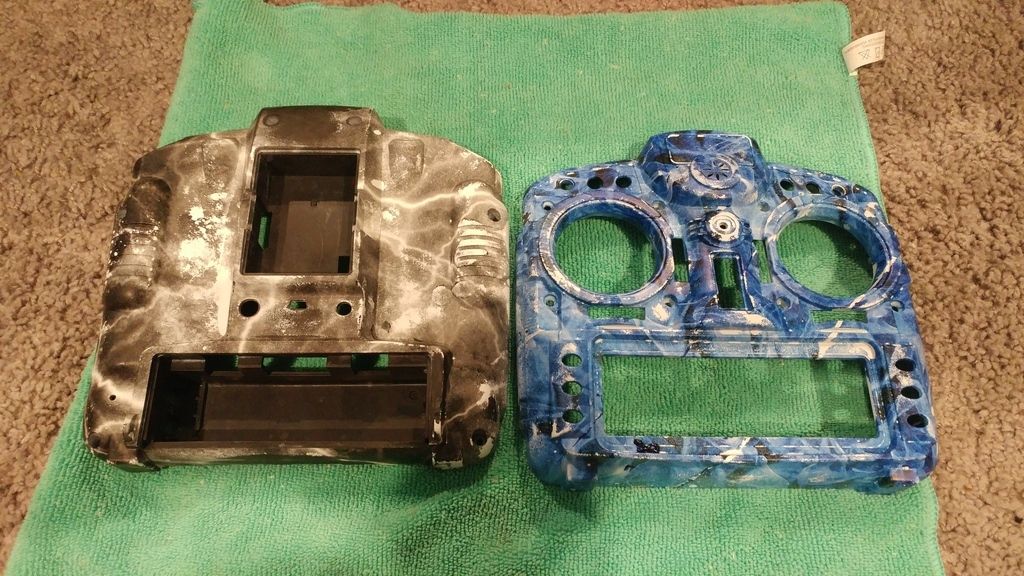 Went back to the drawing board and tried a simpler object with a small piece of leftover film. and water closer to the right temp.
came out much nicer.
With that piece coming out much nicer, I tried my 2nd transmitter shell that I prepped correctly.
I was getting some small creases in the dip as I put it in the water and it shows up in the final project and the color doesn't stick right.
Came out much nicer than the first attempt. Still not 100%, but good enough for my first hydrodip project.
The dip comes out with a matte finish, so I will put on a clear coat when the front half is dipped and both halves are dry.